We are excited to launch our exclusive Pilates Masterclass Series!

Held on Sunday afternoons at our Parkside studio, the Masterclasses will be presented by Rachel Combe, Director of Physio Pilates Proactive.
Rachel is recognised as one of Adelaide's most qualified, experienced and passionate Pilates Instructors. She has developed the Masterclass Series in order to share her vast knowledge and expertise with those clients looking to enhance their technique and deepen their understanding of how Pilates can benefit their overall wellbeing.
Come along and be inspired by Rachel's enthusiasm for the endless possibilities of Pilates!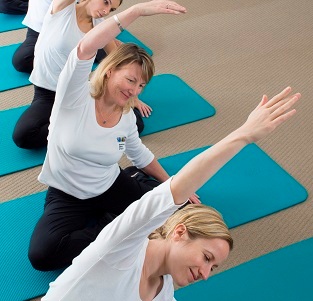 How to Book
All Classes held Sundays at Parkside, 4.00pm – 5.30pm.
To secure your booking, classes need to be paid in full. Classes are limited to 10, so book early.
Call Parkside on 8271 3144 or Stirling on 8339 3188 to book your place.
Please note we cannot reserve places without payment. Receipts will be issued after each class for Private Health Fund Rebates (T561)
Cost
1 class = $49 per class
3-4 classes = $44 per class
5-9 classes = $39 per class
All 10 classes = $35 per class
To secure multiple class discounts, all classes need to be booked and paid for at the same time. No refunds or cancellations; however if you can't attend you may transfer your class to someone else.
We are very excited about these masterclasses and hope you are too!
MasterClass Schedule
---
Date

Event

Sun 5th March
Pilates for Headaches, Neck & Shoulders
Feeling tight in the shoulders? Sick of getting headaches? Sitting at a computer for long periods often creates poor upper body posture which leads to pain, stiffness and often headaches.
Understand what positions of the head and neck contribute to this dysfunction and learn many useful physio exercises to help improve posture. Rachel will also teach you a short daily routine to strengthen this part of your body.
Sun 2nd April
The Oov
What does Oov stand for? Have you noticed these strange looking Pilates props in the studio? Have you experienced a few exercises on the Oov and want to learn more? We are really excited to be the first Pilates studio in Adelaide to offer Oov Mat classes.
During this comprehensive class, Rachel will teach both therapeutic and Pilates-based exercises to expand your Oov repertoire. Are you ready for the Oov?
Sun 30th April
Pilates for hiking & walking holidays
It's that time of the year when many of our clients head on holidays and plan wonderful day walks or longer hikes. In this master class, Rachel will describe the key muscles and their sequencing to facilitate stronger gait patterns, particularly up and down hills. Each participant will be supplied with a simple handout of training exercises to prepare for their trip.
Sun 4th June
Pilates for low back pain and hip problems
Low back pain affects 9 in 10 people and ongoing problems can result in reduced enjoyment of life. Often hip stiffness and dysfunction will contribute to low back pain. Pilates assists in strengthening core stability muscles which have been proven to help rehabilitate from low back pain.
This class will educate you about which Pilates exercises will assist with low back pain management as well as release techniques to increase hip mobility.
Sun 2nd July
Mindfulness & Movement
We invite Stirling Manager and Senior Physiotherapist, Jane Deere to present on Mindfulness. Mindfulness practice helps develop clarity, resilience and self regulation. It begins with becoming aware and noticing. Incorporating gentle movement and breath awareness, this class will help you to experience more fully the present moment whatever is happening.
Sun 6th August
Pilates Top 10
Have you been doing Pilates for years but feel as though some exercises are still your nemesis? The Roll Up, The Plank, The Hundred and Standing Balance are some of the more common exercises which challenge our clients. Rachel will deconstruct Pilates' most popular ten exercises to teach participants extra tricks to enhance greater quality of execution. Take your practice to the next level!
Sun 3rd September
The Pilates Challenge
Not for the faint hearted, the Pilates Challenge promises to offer 90 minutes of flowing choreography which builds to a satisfyingly difficult crescendo!
Participants need to be at a strong Intermediate level and while there will be some advanced exercises, the focus will be more on Pilates endurance. Bring your water bottle and hand towel for this one!
Sun 15th October
Flexibility
Have you always wanted to be more flexible? Perhaps you are envious of ballet dancers and their effortless movement? Rachel will draw upon her 18 years of classical ballet experience to teach participants many different stretches to improve flexibility.
Some stretches will utilise our barres and many props to assist in stretching muscles out. You'll be amazed at the difference that good stretching can make!
Sun 12th November
The Hidden Power of Slings
Are the only slings you've heard of for broken arms? When certain muscles work in synergy, greater power is developed in certain movements. Anatomists have identified 5 different types of slings and from a Pilates perspective, they are the hidden secret to boost your technique.
Learn which muscles groups make up these slings and Rachel will teach many familiar Pilates exercises with sling cues to demonstrate this extra power.
Sun 3rd December
Standing Pilates
Did you know that most of the traditional Pilates repertoire can be performed in standing? We end the year with a fun class, adapting your favourites into graceful routine, challenging strength, balance and co-ordination.